Hotel Gawaling Ladakh, which is tucked away among Ladakh's beautiful scenery, serves as a representation of comfort and peace in this mystic region. This hotel provides visitors looking for solace in the heart of the Himalayas with an amazing experience thanks to its warm welcome, breathtaking views, and outstanding service. Let's explore the outstanding qualities and exclusive services provided by Hotel Gawaling Ladakh.
Embraced by the Beauty of Nature: Hotel Gawaling Ladakh is nestled among the breathtaking Himalayan mountains and offers panoramic views that astound guests. You are welcomed by the sight of snow-capped mountains, verdant valleys, and the Indus River's crystal-clear waters as soon as you enter this luxurious hotel. The hotel's advantageous position offers guests a calm refuge from the busy metropolis so they can fully appreciate Ladakh's unmatched beauty.
Luxurious and Comfy Accommodations: The well-appointed rooms and suites at Hotel Gawaling Ladakh are available in a variety of configurations to suit the requirements of each visitor. Each apartment is attractively decorated, fusing contemporary conveniences with traditional Ladakhi design. A comfortable and peaceful stay is guaranteed thanks to the inviting atmosphere created by the thoughtful details and cosy setting. No matter which Deluxe Room, Suite, or Presidential Suite you select, you can count on absolute luxury and comfort.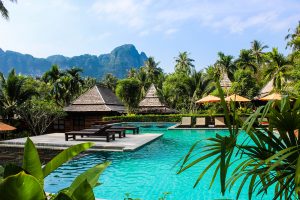 Experience an Elegant Meal: The hotel's on-site restaurant tempts the palate with a delectable selection of regional Ladakhi, Indian, and other cuisines. The dishes are a beautiful fusion of flavors and fragrances since they are made with fresh, locally sourced ingredients. Guests may savor their meals while taking in breathtaking views of the surroundings nearby, making for an unforgettable dining experience.
Unique encounters: To improve its visitors' stays, Hotel Gawaling Ladakh handpicks a variety of exceptional experiences. Every traveler can find something to enjoy, whether they choose to experience the exhilarating Himalayan trails on foot, interact culturally with the locals, or indulge in reviving spa treatments based on age-old Ayurvedic techniques. For a complete and immersive Ladakh experience, the hotel also provides guided tours to well-known Ladakh sights including the Pangong Lake, Nubra Valley, and Leh Palace.
Exceptional Hospitality: Warm hospitality and individualized service are of the utmost priority at Hotel Gawaling Ladakh. The staff is considerate, welcoming, and constantly available to meet the needs of the visitors. They are able to provide insightful commentary and helpful suggestions due to their in-depth local expertise, ensuring that guests get the most out of their experience in Ladakh. The hotel staff goes above and beyond to ensure a flawless and unforgettable stay, organizing everything from outdoor activities to helping with travel arrangements.
Conclusion: In the breathtaking region of Ladakh, Hotel Gawaling Ladakh is a real oasis that offers a refuge of peace and elegance amidst the Himalayan environment. With its picturesque setting, cosy lodgings, delectable dining options, and outstanding hospitality, this hotel exceeds expectations and gives every visitor an amazing experience. Plan your trip to Ladakh and savor the warm hospitality and unrivaled beauty of Hotel Gawaling Ladakh.