When it comes to exploring the mesmerizing landscapes and rugged beauty of Leh Ladakh, choosing the right accommodation can make all the difference in your journey. Among the Best Hotels in Leh Ladakh, Hotel Gawaling Ladakh shines as a true gem. Let's take a closer look at what makes this hotel a top choice for travelers seeking an unforgettable Ladakh experience.
Unparalleled Location
Perched in the heart of the Leh Valley, Hotel Gawaling Ladakh enjoys an unparalleled location. Surrounded by towering mountains and set against the backdrop of the mighty Himalayas, this hotel offers breathtaking views at every turn. The proximity to Leh's main attractions and the serenity of its surroundings make it an ideal base for your Ladakh adventure.
Luxurious Accommodations
Hotel Gawaling Ladakh offers a range of accommodations to suit every traveler's preferences. From cozy rooms to spacious suites, each is meticulously designed to provide comfort, style, and modern amenities. Whether you're a solo explorer, a couple on a romantic getaway, or a family seeking adventure, you'll find the perfect sanctuary here.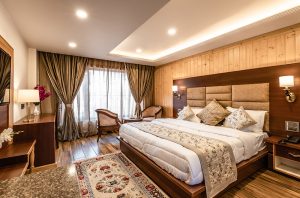 Cuisine that Captivates
Exploring Ladakh's rich culinary culture is an integral part of your journey, and Hotel Gawaling Ladakh ensures you savor every moment. The hotel's in-house restaurant serves a delectable array of Ladakhi and international cuisines. Taste authentic momos, indulge in aromatic biryanis, or savor freshly baked bread while soaking in the captivating views of the Ladakhi landscape.
The Ultimate in Wellness
Ladakh's high-altitude terrain requires a special approach to wellness, and Hotel Gawaling Ladakh has it covered. The hotel features a spa and wellness center where you can rejuvenate your body and spirit. Pamper yourself with traditional Ladakhi therapies, unwind in the steam room, or take a dip in the heated indoor pool – all designed to ease the effects of high-altitude travel.

Spectacular Outdoor Adventures
Ladakh is a paradise for adventure enthusiasts, and Hotel Gawaling Ladakh makes it easy for you to explore this rugged terrain. The hotel organizes guided trekking, mountain biking, and cultural tours that allow you to immerse yourself in Ladakh's unique culture and landscapes. Whether you're a seasoned trekker or a first-time visitor, there's an adventure awaiting you.
A Commitment to Sustainability
Hotel Gawaling Ladakh takes pride in its commitment to sustainability. In this fragile Himalayan ecosystem, the hotel strives to minimize its environmental impact. From energy-efficient practices to responsible waste management, your stay here contributes to the preservation of this pristine region for generations to come.
Impeccable Service
What truly sets Hotel Gawaling Ladakh apart is its impeccable service. The staff, known for their warmth and attention to detail, go above and beyond to make your stay unforgettable. Whether you need assistance planning your adventures, dietary preferences catered to, or special arrangements for a romantic occasion, the hotel staff is at your service.
Booking Your Ladakh Experience
Booking your stay at Hotel Gawaling Ladakh is a breeze. You can easily make reservations online through their user-friendly website or reach out to their dedicated customer service team. With various packages to choose from, you can tailor your Ladakh experience to your specific desires and budget.
In conclusion, Hotel Gawaling Ladakh is more than just a place to stay; it's a gateway to an extraordinary Ladakh experience. With its stunning location, luxurious accommodations, mouthwatering cuisine, wellness facilities, and commitment to sustainability, it exemplifies the best of Ladakh's hospitality. Whether you're an adventurer, a culture enthusiast, or simply seeking a tranquil retreat amidst nature's grandeur, Hotel Gawaling Ladakh promises an unforgettable journey in one of the world's most awe-inspiring destinations. Book your stay today and embark on a Ladakh adventure that will leave you with memories to cherish for a lifetime.